Safety partnership targets street drinking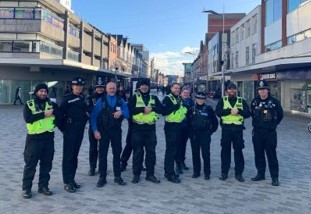 Southend City BID, Essex Police and Southend Council's Community Safety team have joined together to tackle street drinking in the city centre this November.
The operation, coined as Operation Episode by Essex Police, saw focused activity from Street Rangers, Community Safety Officers, and members of the Town Centre Police team on Wednesday 15 November.
Suzanne Gloyne, Southend City BID Manager commented "Following recent feedback from our BID members and Street Rangers, we needed to come together with our safety partners to tackle the uplift in street drinking in the city centre. Working together with Essex Police and the Community Safety team, this operation was undertaken ahead of our big switch on event this Saturday 18 November to address the issue ahead of the festive season.
The day saw teams engage with numerous street drinkers, with alcoholic drinks seized and destroyed on three occasions and one individual received a fixed penalty notice for street drinking. Six premises were visited and spoken to regarding the sale of single and high content alcoholic drinks, and the subsequent anti-social behaviour this leads to. In addition to the street drinking activity officers stopped and educated sixteen cyclists regarding the cycling prohibitions on the High Street, one illegal electric bike was seized, and an individual was reported for being in breach of their Community Protection Notice.
Southend Town Centre Team Sergeant, James Mint, said "At Southend Town Centre Team, we want to make everyone feel safe in our city, and for visitors and residents to have an enjoyable experience in Southend. Much of our time is spent dealing with anti-social behaviour, and intoxication is a significant factor in many such incidents. Operation Episode not only targets the intoxicated individuals behind the antisocial behaviour, but the irresponsible sale of alcohol that perpetuates the problem."
Simon Ford, Head of Community Safety at Southend-on-Sea City Council added "Once again, the strength of partnership work to address issues in the City is demonstrated by this operation. Officers from Essex Police, Southend City Council's Community Safety Unit and Southend City BID's Street Rangers, worked together in and around Southend High Street to tackle anti-social behaviours.".
For the latest Southend City BID information, head to www.SouthendBID.com, or follow Southend City BID on Twitter, Facebook, Instagram, and LinkedIn.