Best Festive Business Competition
About the competition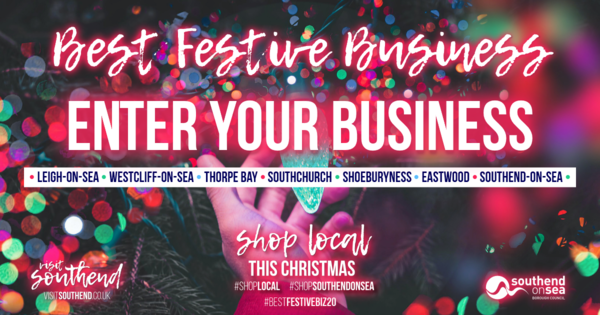 Local businesses are being urged to deck their shops with boughs of holly - and every other type of Christmas decoration - for Southend's annual Best Festive Business competition which is returning on 3 December.
How do I enter the competition?
Businesses in the borough of Southend are encouraged to send in a photo of their festively decorated business (window or office), via
Email the team stating the business name and location or
send a message to @businessonsea on facebook
Once the photo is uploaded on @businessonsea facebook album, a post with that photo will appear on @businessonsea facebook page timeline. Business can share that post/link to their own facebook page to collect votes. Entry to the competition opens from 3 December 2020 and closes on 20 December 2020.
A poster for the competition has been created for businesses who wish to display them (i.e. on their shop window) to encourage customers to vote for them. The poster contains the QR code to vote. Hard copies of posters have been distributed the coordinators of each shopping districts. However business can download direct from Facebook
Throughout the competition businesses are encouraged to use the hashtag #BestFestiveBiz20.
How do I vote?
Please visit Business on Sea facebook page to view the photos of businesses who are taking part and to cast your vote for your favourite.
If you are voting on PCs or laptops simply hover over the photo you wish to vote for and click on 'like'
If you are voting on mobile devices you will need to click open the photo you wish to vote for, then click on 'like'
If you experience any issues with voting on facebook please email to register your vote, mentioning the business you wish to vote for and your name and contact number.
Public voting will be open from 3 December to midnight 20 December 2020.
What are the prizes?
The votes will be counted and verified, and the winner will be announced on 21 December 2020.
The business with most public votes will receive a free promotional video (approx. value £500) sponsored and created by Blatella Films, which can be used for social media promotion to enhance your business. Video prize needs to be claimed by April 2020. Examples of the videos produced for previous winners can be viewed on BusinessOnSea youtube channel at https://bit.ly/2SRe6F5 (videos 8-10)
There will also be 2 runners up. A certificate of achievement will be sent to the winner and runners up before Christmas.
A member of the public voter will be randomly chosen, on 21 December, from all those who have voted for their favourite festive business, and s/he will receive one hundred pounds (£100) worth of shopping vouchers from a local store of their choice. The prize is non-refundable and no alternative can be offered in whole or part. No purchase necessary.