Holiday Inn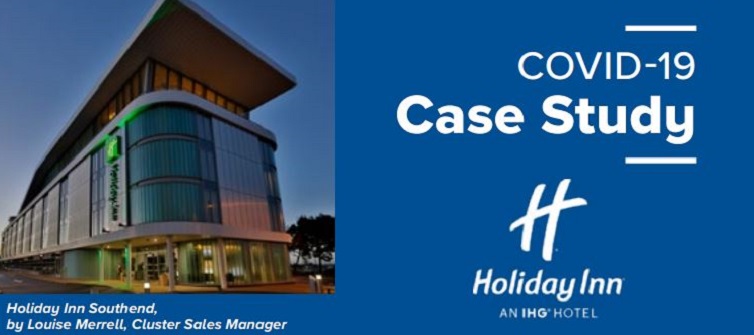 About Holiday Inn Southend:
Holiday Inn Southend is located just one-minute from Southend Airport and Southend Airport Train Station making it exceptionally accessible to London and Southend town centre. Our hotel boasts 129 modern and sound-proofed guest rooms, meeting and event facilities, our AA Rosette 1935 Rooftop Restaurant, our 1935 Rooftop Bar and complimentary Wi-Fi throughout. We also offer on-site car parking for all our guests. With modern furnishing, Wi-Fi, flat-screen satellite TV with a choice of 30 free channels and radio channels you'll find everything you need. Hotel guests can also use our fitness suite for free!
Did COVID-19 impact on your businesses,if so, in what ways?
Yes. COVID-19 had a massive impact on our business. As part of the hospitality industry, our whole business fell apart in just a couple of hours with huge amounts of cancellations and event postponements, dinner cancellations etc. with the Prime Minister's announcement. Our restaurant and bar closed permanently, however we managed to keep the hotel open throughout the pandemic to accommodate key workers and frontline staff who needed accommodation close to Southend Hospital and the airport (NHS workers and pilots bringing in PPE).
How did your business adapt to the new business environment?
We have adapted by implementing new robust cleaning measures to ensure our guests' safety, these include installation of shielding glass at reception and the hotel bar, hand sanitiser stations all over the hotel; new training for all staff in how to stay safe and protect our guests. We had to adapt all these changes within a couple of days of the PM's announcement as the hotel remained open to safely welcome keyworkers, repatriated guests, pilots and engineers. We now offer tea/coffee packs in a sealed bag for guests rather than display them in the rooms. We have removed all touchpoints in the bedrooms to reduce cross contamination so all luxuries in a four star hotel such as bath robes and extra pillows have been removed. Our housekeeping team have been given extra time to process room cleaning to ensure all surfaces are cleaned and disinfected. We had to change our usual extensive breakfast buffet into grab and go breakfast bags so no customers congregate in the one area. We are operating contactless check-in, contactless food ordering and offering a reduced menu now to cope with the extra cleaning measures needed in the kitchen for each and every order. All public areas and meeting rooms are closed.
Do you think you will maintain the changes or go back to your old business model?
We envisage the changes we have made to stay in place for quite some time as people's confidence in travel grows and demand goes back to pre COVID levels. We will continue to promote social distancing and only take the business level the hotel can accommodate with social distancing guidelines in place – which is down to less than 50% of the business we were seeing before COVID-19.
Are you feeling confident about the future of your business after the above adaptation?
We feel confident as we believe domestic tourism will be the first kind of tourism to bounce back. With people being afraid to travel abroad, we believe Southend on Sea is a beautiful seaside location that people will want to come and visit. We have been awarded the Southend Tourism Alliance Safe Stay Southend kitemark and the Visit England Good to Go kitemark showing our commitment to providing a safe environment for our guests and staff.
Any advice/experience you would like to share with the wider business community?
Stay strong and carry on. We are seeing some greenshoots out there at the moment with an uplift in business since the government relaxed their policies on 4th July. Although things may seem tough right now, we are confident we will bounce back and thrive. We call it business as unusual.
Holiday Inn Southend, by Louise Merrell, Cluster Sales Manager